The latest promo for Smart Prepaid subscribers the All Out Surf 30 allows for all day connection with family and friends. You may enjoy texts, calls and mobile surfing with up to 300 MB free data usage, FREE Facebook access, plus an unlimited texts to all networks, and a maximum 30 minutes of calls to Smart, TNT, and Sun.
All of those freebies and all privileges are package for only 30 pesos.
Register now with the Smart All Out Surf 30. Check out the registration details below:
How to register to Smart All Out Surf 30 Promo
– To register, Simply text ALLOUT30 send to 9999
– Promo Validity: 2 days
– Package Price: P30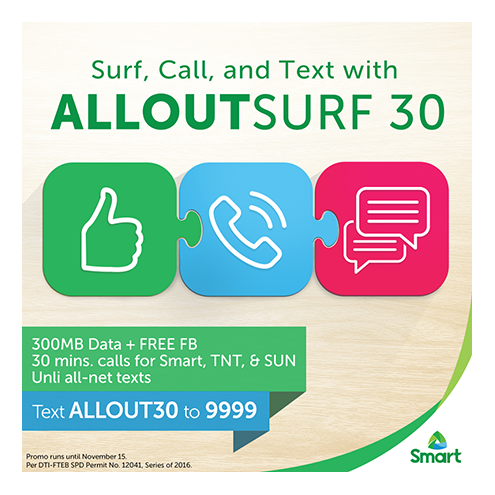 – Promo Package plus:
– 200MB Internet Surfing
– FREE Facebook
– Unlimited Texts to all network
– 30 minutes Calls to Smart, Sun and Talk N' Talk (TNT)
This Smart All Out Surf 30 Promo is available to all Smart Prepaid subscribers. Per DTI-FTEB Permit No.12041.