Hi CitiBank cardholders! Here's more great news from CitiBank Credit Card Promo. You now have plenty of awesome treats and promo rewards from Citibank. This promo gives you exclusive access to sale discounts from stores and exciting FREE treats.[2020]
All you need to do is ensure you purchase any item with CitiBank credit card. Make sure the charge slip purchases are within the minimum purchase amount of P2,500 single receipt. These makes your shopping experience a true delight all shoppers and CitiBank cardholders.
Check out the latest from Citibank Credit Card Promo for 2017 and 2018 :
All Citi Credit Cardholders can avail to travel cheap when you visit the Citibank Makati Smart Branch. Here you are allowed to book deals at up to 75% discount. Plus, all you citibank cc members will get buy 1, take 1 deals on famous brands such as PacSafe , STM, LOQI , Hello Lulu and Cocoon!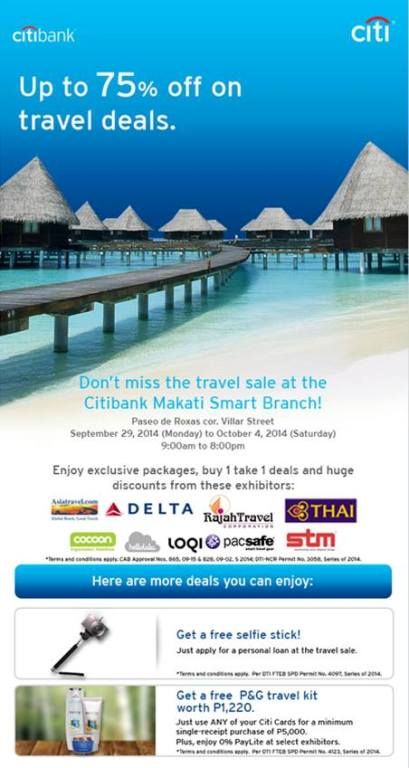 This Citibank Travel Promo 2014 Citi Exclusive Deals can be availed starting September 29 (Monday) until October 4, 2014 (Saturday) only. Office hours from 9 am to 8 pm. Citibank branch located in Paseo de Roxas cor. Villar Street, Makati.
Enjoy your Travel with Citibank!
Do your shopping online at Adidas Online Website, and you will find there is an exclusive 20 percent discount from your first purchase plus free shipping. Just use your Citi bank credit card.
What do you do? Simply make your choice from a wide range of products and you can already avail of a 20% off and free shipping on nearly all full-priced items. Take note, use your Citi credit card when you make your purchase and always enter the special promo code CITI20 upon check out under the shopping cart tab. Do remember that some items are excluded from this offer like Boost Running Shoes, watches, headphones and fitness equipment.
Just begin your active lifestyle and simply grab this exclusive offer from Adidas up to February 12, 2014.
Its really awesome to be a CitiBank cardholder. Citibank provides another 2.00 Peso Promo treats for you. This time it's with Hunt's! You simply need to spend a minimum single-receipt purchase of at least P2,500 from Feb. 6 – 9, 2014 using your Citi card. And then buy a spaghetti pack for P2.00 only from Feb. 12 (starting 12 noon) to February 14, 2014 at selected Robinsons Supermarket Stores.
Enjoy your CitiBank treats for only P2.00 with your Citi cards promotions!
Citibank Cardholders get an exclusive 20 percent off on ALL regular-priced women's wear, men's wear, and lingerie at Marks & Spencer. Promo period starts January 30 and ends on February 1, 2014.
Grab a Krispy Kreme promo 2014 plus exciting travel package deals that will surely make the whole family enjoy. Get a Krispy Kreme Holiday Collection box for only P2.00 with your Citibank credit cards.
How to avail the promo! For a minimum single-receipt purchase of P2,500 using your CitiBank credit card from February 14 (Friday) to February 18 (Tuesday), 2014, then you get to buy a box of 6 Original Glazed Doughnuts from Krispy Kreme for only P2.00 pesos from February 22 (Saturday) to February 26 (Wednesday), 2014 at selected Krispy Kreme Branches nationwide.
Every Citibank cardholders can truly enjoy this P2.00 promo treat this 2014! Grab all the Krispy Kreme doughtnuts until it is available!